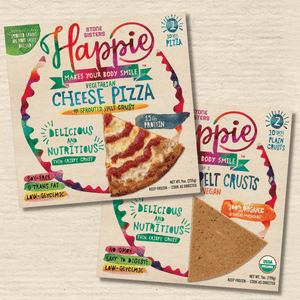 INDULGE IN PIZZA & CRUST GUILT FREE
Pizza doesn't have to be a guilty pleasure anymore. With Stone Sisters Organics Happie Cheese Pizzas and Happie Organic Sprouted Spelt Crusts, you can indulge in your favorite food without compromising your health. Our products offer a healthier way to enjoy delicious pizza! Share the love, one slice at a time.
ORDER ONLINE
Enjoy delicious Pizza & Crust guilt-free with Stone Sisters Organics.
Our Happie Organic Sprouted Spelt Crusts are made with the highest quality ingredients and are packed with nutrients. Our Happie Cheese Pizzas are made on our Happie Organic Sprouted Spelt Crusts, with Non-GMO hand shredded mozzarella cheese, and our Non-GMO house-made pizza sauce. Plus, the taste is amazing! You won't even realize you're eating something healthy. Enjoy our Happie products and make your body smile.
Share the love and boost your sales with our unique products.
Share the love of healthy, delicious Pizza & Crust with Stone Sisters Organics. As a wholesaler, you can partner with us to carry our Organic Sprouted Spelt Crust & Cheese Pizza products in your store, restaurant, or deli and offer your customers a nutritious and tasty option. Join us in sharing the love and boosting your sales.
WHOLESALE INQUIRIES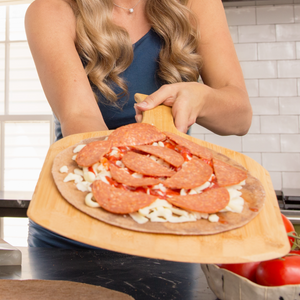 NEWS & NUTRITION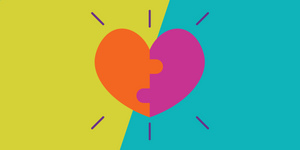 Do you understand what you have? You have you!! YOU are the center of your universe. How do you see yourself? Do you understand all the potential of being your best?...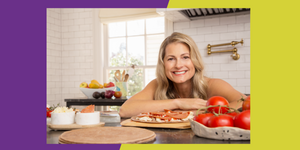 Yes, I know, cheesy title, but it's a question many people grapple with. After my husband passed away in 2012 from a brain tumor, I finally found my passion. I...
Using carefully sourced ingredients, our products are made with love and care. Order online and enjoy the convenience of having them delivered straight to your door. Our delicious and nutritious ingredients will make your family Happie and healthy!